Within minutes after you drink your coffee or tea, caffeine is carried by your bloodstream to all your organs and virtually every cell in your body.  Because caffeine is fat soluble, it passes easily through all cell membranes: It is quickly and completely absorbed from the stomach and intestines into the blood stream, which carries it to all the organs.  Caffeine permeates organs more rapidly than most other drugs, but not more rapidly than alcohol.  And because there are no significant physiological barriers that hinder its passage through tissue throughout the human body, the concentrations attained by caffeine are virtually the same throughout the body and in blood, saliva, and even breast milk and semen.
TRY IT NOW!!!!
Dunkin Donuts Original Blend Ground Coffee – 12 oz

Many of caffeine's powers depend on its power to pass into the central nervous system (CNS).  To enter the CNS, caffeine must cross the blood-brain barrier, a defensive mechanism that protects the CNS from biological or chemical exposure by preventing viruses and other large (and most small) molecules from entering the brain or its surrounding fluid.  Even when injected into the bloodstream, many drugs fail to penetrate this barrier, and others enter it much less rapidly than they enter other tissues.  However, caffeine passes through the blood-brain barrier as if it did not exist.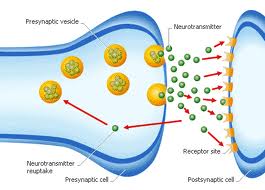 All psychoactive drugs, including caffeine, achieve their effects by imitating or altering the release or uptake of neurotransmitters, the chemical messengers that direct how the neurons of the CNS interact with each other.  Neurotransmitters are altered by drugs in a variety of ways, including increasing or decreasing their synthesis, inhibiting or enhancing their transport, modifying their storage, release, or the way they are degraded, or simply by directly mimicking their activity or, alternatively, by blocking their action at the receptor site.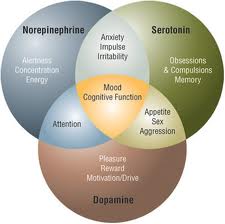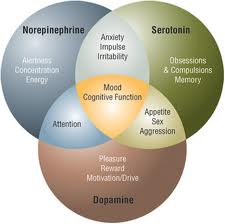 Caffeine achieves many of its effects by blocking the activity of adenosine, a neurotransmitter that affects almost every bodily system.  Because one of the primary actions of adenosine is to make us tired or sleepy, caffeine, by blocking the uptake of adenosine, keeps us from feeling the effects of fatigue.  But scientists have learned that, largely as a consequence of its blockade of adenosine receptors, caffeine also has profound effects on most of the other major neurotransmitters, including dopamine, acetylcholine, serotonin, and, in high doses, on norepinephrine.  By affecting these other neurotransmitters, it is able to deliver a major boost to our capacities even when we are well-rested, something that could not be explained by the inhibition of adenosine alone.   By increasing the transmission of dopamine, caffeine improves our mood and may protect brain cells from age and disease related degeneration.  By increasing the activity of acetylcholine, caffeine increases muscular activity and may also improve long-term memory.  By raising and adjusting serotonin levels, caffeine relieves depression, makes us more relaxed, alert, and energetic, and relieves migraine headaches.


The full story of caffeine's intricate mechanism of action is still only partially understood by pharmacologists and physicians.   And though caffeine is probably the most widely studied drug in history, the effort to penetrate its mysteries continues today.  Animal studies are problematic, because rats, mice, cats, dogs, and monkeys process caffeine very differently from each other and very differently from human beings.  Human studies are sometimes bedeviled by the individual differences in the quality of responses to caffeine and differences in the rate at which it is metabolized by different people and at different times.  Finally, there is the unique problem that, because almost everyone already uses caffeine, it is difficult to determine what they would be like without it.
However, even if we don't know all the answers about how caffeine works, we can classify the two major effects caffeine has on our neurotransmitters by which it achieves its magic:
Caffeine alters the production or uptake of many neurotransmitters so as to increase mental and physical energy and enhance performance; and
Caffeine regulates the balance of many neurotransmitters, in ways that enhance our moods, kill pain, suppress our appetite, and even protect our brain cells from damage and disease.
Caffeine's Neurotransmitter Mediated Benefits
Caffeine, by acting to modifying and regulate a host of the body's neurotransmitters, enables us to tap into our hidden potential in four major areas:
●Cognitive:
Sharpens reasoning, memory, verbal fluency, concentration, and decision-making and heightens sensuous perception.
●Affective:
Enhances moods, increases relaxation, relieves boredom, boosts self-confidence.
●Physical:
Improves speed, endurance, energy output, strength, and reaction time, and increases thermogenesis, that is,  fat burning and metabolic rate.
●Therapeutic:
Protects body cells and especially brain cells from some kinds of long-term damage and delivers many other specific therapeutic benefits including pain relief and protection from the pulmonary complications of smoking and the damage from strokes.