If caffeine is what you're really after when you drink your daily cups of coffee, perhaps it's time to declare your interest to the world by enjoying the use of an eponymous caffeine drinking vessel.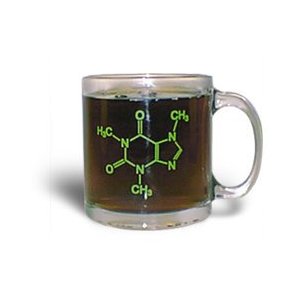 One nifty item is called a Caffeine Molecule Mug. This glass mug with a stable design is emblazoned with the caffeine molecule, costs only $11.00, and holds eight ounces of your favorite caffeinated beverage.


Anoter choice is called a Caffeine Molecule Stainless Travel Mug. This stainless steel lidded megamug costs only $12.00, h0lds sixteen ounces of caffeinated bliss, and is decorated with a black caffeine molecule.