An interesting innovation in the world of coffee preparation is a device called the Scanomat TopBrewer.  It looks like a spigot that is mounted on a kitchen counter without a sink.  Turn the handle and coffee is automatically prepared and delivered into your cup!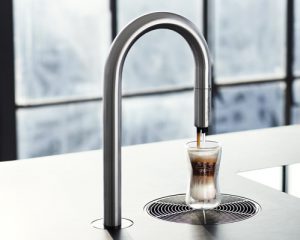 The undercounter installation conceals a set of components that enable you to enjoy a variety of coffee drinks on demand.  The available drinks include cappuccino, because the device has the ability to store and froth milk.  A touch-screen interface allows users to select the desired drink.  Beans are then ground, water and possibly milk is added, and the prepared coffee is quickly delivered through the stainless steel faucet. 
You still have to refill the beans and the milk supply, but an automated cleaning cycle helps make this "coffee on demand" set-up look attractive!  It must be expensive, however, as the product web site carefully avoids mentioning the price.