One of the best and most popular ways of making coffee is the filter drip method.  Most commonly, the filter used is disposable and is made of paper.  Sometimes, however, reusable metal, often gold-plated, filters are used instead.  Both methods of filtering coffee work to brew good tasting coffee.  However, the use of a metal filter poses certain health risks.
Many people are unaware that coffee beans contain cafestol, a substance that significantly increases levels of cholesterol by inhibiting the body's ability to process cholesterol.  Paper filters remove this substance from the brewed coffee.  But metal filters do not remove this substance.
Because caffeine provides significant protection to the heart, the harm done by increased cholesterol in metal filtered coffee is "balanced out" by the caffeine in coffee and, therefore, the use of metal filters to make caffeinated coffee does not increase the incidence of heart pathologies.  However, it was proven decades ago in large-scale longitudinal studies that the long-term use of metal filters creates a risk of cardiovascular pathologies if the coffee is decaffeinated.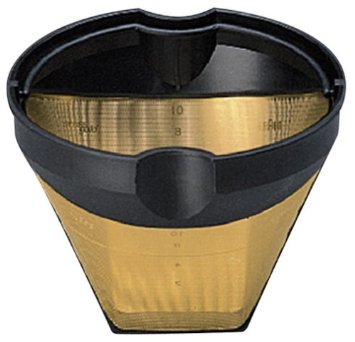 However, you should be aware that, if you use metal filters, even to make caffeinated coffee, you won't reap the tremendous heart benefits of caffeine that filter drip coffee brewed with paper filters delivers.  The simple fact is, you are better off without the cholesterol that coffee supplies when it isn't brewed with a paper filter.  So, for the health of your heart, we strongly recommend paper filters instead of metal filters.
(Note that French-press coffee makers do not filter your coffee through paper filters and, therefore, the coffee they make works against the body's ability to process cholesterol in the same way as coffee made from metal filters!)
COFFEE MUGS GALORE!!!!